Op-Ed by Chris Fozard, Operations Manager of Budget Motels
I write this sitting in my loungeroom as Melbourne's Lockdown 5.0 is extended indefinitely, and COVID continues to lockdown other cities, regions, and states. I watch again as trust in our industry takes another hit and is now at an all-time low as travellers are hesitant to commit to future travel plans, and instead are waiting until the last minute to make bookings.
The future is uncertain, this we know, but a repercussion of this is that we can't yet see a realistic timeframe of when Australia could expect to be opened up to international travellers, and we have focused our efforts on promoting travel of this amazing country to our domestic markets.
We all see the advertising for beautiful places, amazing experiences and incredible people, but we're not seeing the BOOK DIRECT message on anything. 
It continually falls to the property owners and industry leaders to try and keep the travelling public informed about the damage that Overseas Online Travel Agents (OTA's) do to our industry, but we need the politicians to help as well, starting with instructing their departments to BOOK DIRECT as many currently use the OTAs.
After surviving through bushfires, floods and pandemics, motel owners need to keep 100 percent of their booking and not pay up to 50 percent commissions to non-Australian, Overseas Travel Agent companies.
COVID sees Australia's accommodation industry on a rollercoaster ride, and while we can report an increase in direct bookings for regional accommodation to an average of 10 percent, a 25 percent increase from this time last year, a push to support local Australian business will make it higher – where it needs to be!
In 2018 Charles Ikstrums (Budget Motels Chairman) and I had the privilege to work with Dick Smith on his viral video where he talked about the impact the OTAs have on this country, and in the short term, we saw a noticeable jump in direct bookings, which was what we hoped to achieve. However, many guests have fallen into their old habits of using the OTAs.
We need to again push the BOOK DIRECT message.
Some of the initiatives that our members do are, leaving a letter in the guest's room explaining the difference between an OTA booking and a direct one.  Some offer free cooked breakfast when guests book direct, others a discount on the room rate, it doesn't matter what it is as long as the guests feel that they're being rewarded for booking direct, they will change their habits.
Our government officials are on TV pretty much every day now, and would it be too much to ask them to sign off with, "BUY AUSTRALIAN" or "BOOK DIRECT"?  I think it's the least they can do.
Click here to read more industry replies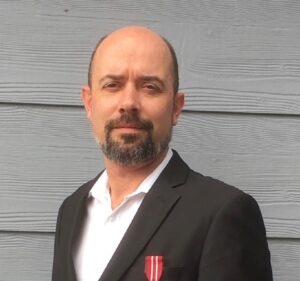 After 6 years with the Royal Australian Navy, I moved into the hospitality industry.  I've worked in almost every aspect of the industry, from cleaning, bar-tending through to motel and hotel management. During this time I also worked with disengaged youth for 6 years, however, accommodation and hospitality are my passion.
In 2016 I came to the Budget Motel Chain and the UseROSS Channel Manager, and it's been a fantastic experience where I have been able to focus my passion for the industry and work towards taking back some of the control the OTAs have slowly taken from property owners